You are here:
Home »
Finding Africas
Search site
Finding Africas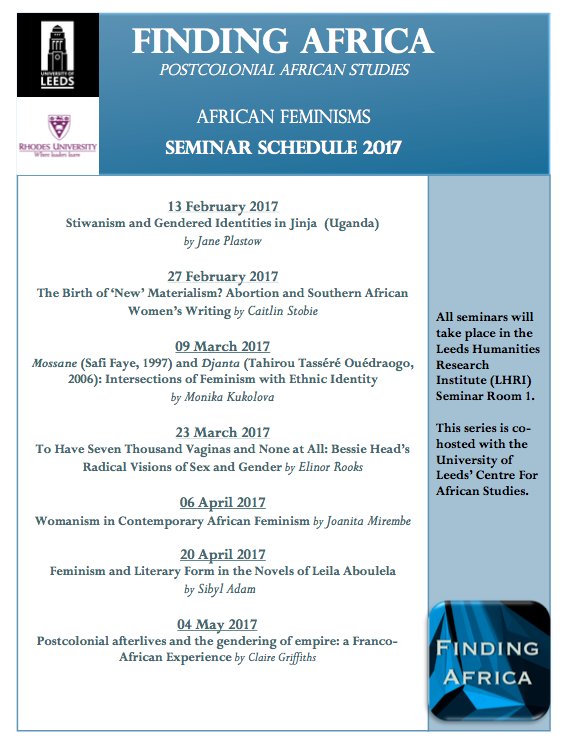 Finding Africa 2016/17 (UK) – African Feminisms
African feminisms have, from the beginning, been grounded in an inclusive and intersectional discourse which seeks to challenge and unravel patriarchal, political, existential, and philosophical imbalances in society. As such they have been instrumental in bringing into question some of the 'blind spots' and prejudices embedded in Western feminisms. In light of current debates on decolonisation and the continued interest in intersectional politics in the global sphere, Finding Africa invites researchers to propose papers which centre on the theme of African feminisms in any field of the humanities.
Accepted submissions from the UK will comprise the lineup of the next round of seminars co-hosted with the University of Leeds' Centre for African Studies (LUCAS) in 2017. A second call for submissions from South Africa will be made shortly.
Topics of interest include (but are not limited to):
Intersectionality and African Feminisms
Womanism in Contemporary African Feminism
The Future of African Feminisms
Human Rights and African Feminism
African Feminisms and Curricula
Contemporary African Feminisms
African Feminisms in the West
Philosophy and African Feminisms
African Feminist Manifestos
The Psychology of African Feminisms
African Feminist Literature
African Feminisms and Disability
Guide for authors:
All submissions should be 250 word abstracts in Word format emailed to findingpocoafrica@gmail.com by 20 November 2016.
The next Finding Africa seminar, hosted in association with the University of Leeds' Centre for African Studies (LUCAS), will be on 24 May 2016. Ruth Daly will present a reading of Anne Landsman's The Devil's Chimney in her paper titled 'Liberating the Female Voice from the Patriarchal Order of the South African Pastoral Tradition'.
The seminar will take place on 24 May 2016 at 4pm in Seminar Room 1 of the Leeds Humanities Research Institute (physical address: 31-2 Clarendon Place, Leeds). Entrance is free and all are welcome.
Abstract
Literariness takes precedence over fiction as social document in Anne Landsman's The Devil's Chimney, a text which engages with storytelling as a means of escape from hegemonic control. Landsman's iconoclastic novel echoes the feminist-socialist model of Olive Schreiner, dismantling constructed binaries of sexuality, gender, and race. Dominant myths of the pastoral genre are deconstructed from within in playful and innovative ways. While an undermining of the plaasroman is not new to South African writing, I propose that Landsman's re-writing of the genre takes it into a new literary sphere in its suggestion of a new symbolic order, one in which 'women's [inexhaustible] imaginary' is explored. This paper will offer a reading of the novel through the lens of French feminist psychoanalytic theory in an attempt to examine the ways in which this new symbolic order is suggested.
About Ruth Daly
Ruth Daly is a PhD student in the School of English at University of Leeds. Her research interests include postcolonial literature, psychoanalytic theory, feminisms, and social and political concerns in post-conflict societies.
 The original planned Finding Africas seminar with Matthew Lecznar has been postponed to a future date.